Land Area: 4.87km²
Population: 11,102
Median House Price: $271,000
Median Rent Per Week: $250
Average Household Size: 2.9
About Craigmore
Craigmore is bounded by Craigmore Road in the north, Birmingham Drive, Manchester Circuit, Gloucester Drive, Beatrix Drive and the locality of One Tree Hill in the east, the Whitford Road alignment in the south, and the Turner Drive alignment, Adams Road, Uley Road, a line to the west and north of Craigmore High School and the Bentley Road-Hanson Road alignment in the west. The suburb is named after an early property in a nearby area.
The area had early development beginning in the 1970's with rapid growth then taking place from the early 1990's. The population nearly doubled between 1991 and 2006 which was a result of large numbers of new dwellings being added to the area.
Craigmore is a relatively recent residential area. The suburb consists of the Craigmore Village Shopping Centre, Craigmore YMCA, Craigmore park and a number of schools being the main features of Craigmore.
The median age of people in Craigmore is 33 years with children between the ages of 0 and 14 making up 23.3% of the population, and people aged 65 years and over making up 9.5%.
Of occupied private dwellings in Craigmore, 99.6% are separate houses, 0.3% are semi-detached, row or terrace houses, townhouses etc., and the suburb consists of 0.1% flats, units, apartments or other dwellings. Out of these properties, 20.6% are owned outright, 56.1% are owned with a mortgage and 21.6% are rented.
Map of Craigmore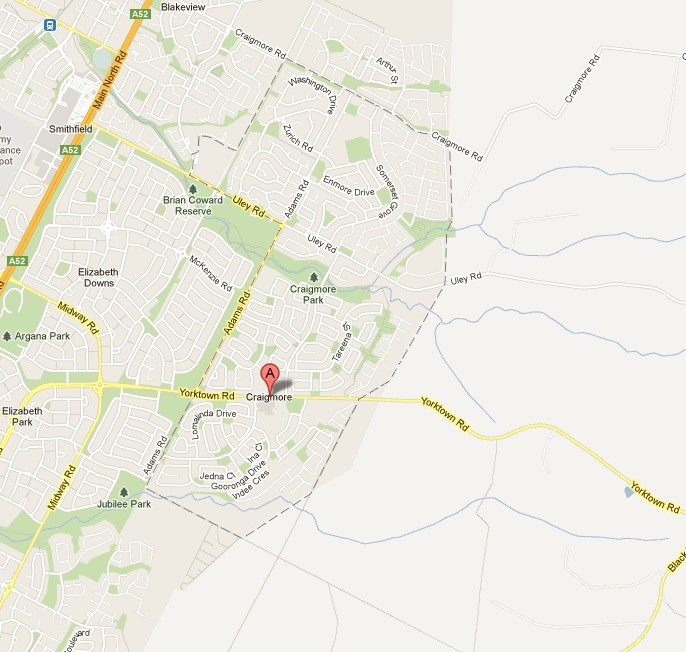 (all statistics are approximate)
Call us now for your free appraisal and expert advice on 08 8287 5511.
Resources:
google.com, abs.gov.au, domain.com, playford.sa.gov.au